Several weeks ago, I was thrilled to find that
Miceli's
, a Cleveland cheese maker, now has a comparatively inexpensive
mascarpone
(oddly, it's not featured anywhere on their website). I immediately bought it with plans for
tiramisu
. The wedding cakes I made (more pictures of that later) took precedence, though, and I only got to the
tiramisu
yesterday. I made a miniature, one layer
tiramisu
, using a 5' x 8' ceramic dish I have. I forgot to take pictures before we dug in after a dinner of wine, bread, cheese and veggies, so there are no pictures of the fully
assembled
,
un
-attacked dessert. Oops.
I used
La

Tartine

Gourmand
's recipe for lady fingers, but only made 1/3 of the recipe, since I was trying make a very small portion, and didn't want an abundance of cookies. I had a few leftover, however, and found I really like them! They are barely sweet, and a little dry, but pleasantly flavored. I didn't feel like doing the whole piping bag deal to make fingers, so I just used a small scoop, and made normal, round cookies. I based my
tiramisu
recipe off of
David

Lebovitz
's
recipe, but again, reduced it significantly. I wish I had used a smaller dish, or individual dishes like David's though, just so I could have managed another layer of lady fingers before running out of filling. The only other change I would make is in the rum/espresso mixture. It's supposed to be boozy, but I just found it too boozy. I think it's probably the rum--I'm not actually a huge rum fan, so next time, I'm thinking about using
kahlua
instead, to up the coffee flavor in addition to the booze.
Lady Fingers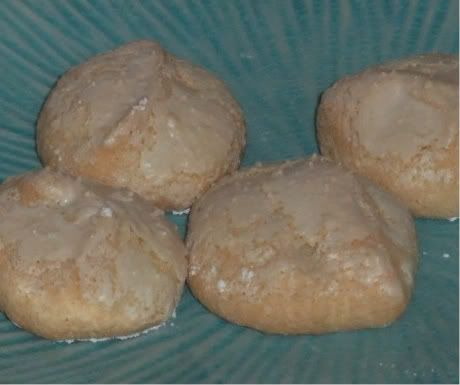 1 egg, separated
2 tablespoons cornstarch
2 tablespoons flour
1 oz. sugar
powdered sugar for dusting
Preheat oven to 350. Whip egg whites with half of the sugar, until the whites form stiff peaks, gradually adding more sugar until it's all incorporated. Mix in the egg yolks. then sift the cornstarch and flour into the egg mixture, gently folding until just combined. Do not mix quickly or deflate the egg whites. You want fluffy here! On a parchment lined baking sheet, you can either pipe the batter into the traditional finger shape, or if you're lazy like me, just use a small scoop to make rounds. Space them a bit apart, since they will puff. Sift powdered sugar over cookies, and let it absorb. Repeat. Bake for 10 to 15 minutes until golden. Let cool.
Tiramisu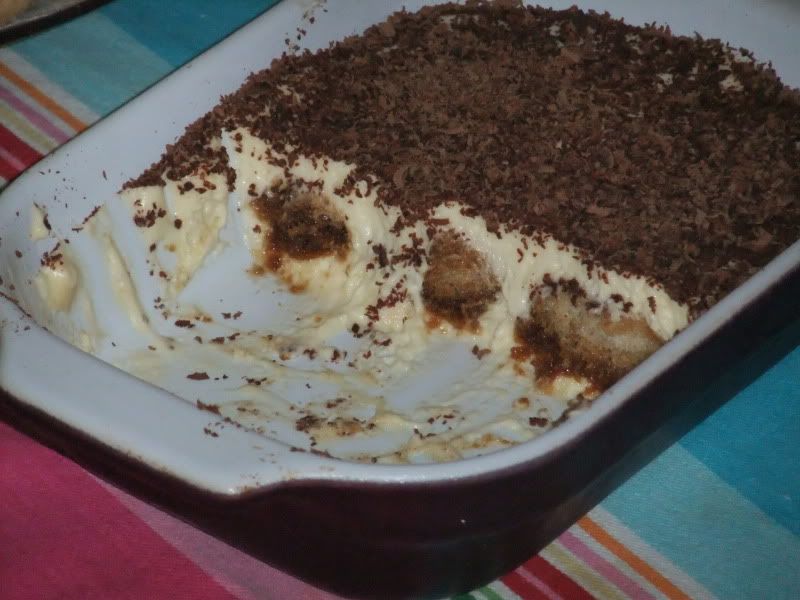 1/4 cup espresso (I used water and
espresso powder
)
1 tablespoon dark rum
1/2 tablespoon cognac (I used my baking buddy,
Navan
)
1 large eggs, separated, at room temperature
small pinch of salt
3 1/2 tablespoons sugar, divided
1/2 cup
mascarpone
lady finger from recipe above
bittersweet chocolate for grating on top
Combine espresso, rum, and cognac, and set aside. Whip egg whites, salt and half of the sugar until firm peaks form. In another bowl, whip egg yolk and remaining sugar until thick and pale. Add the
mascarpone
to the egg yolk mixture, combining until smooth. Carefully fold in egg whites, in two stages, until completely combined. Spoon a small portion of egg mixture into the serving dish. Dip the lady fingers into the espresso mixture for a few seconds, and layer into serving dish. Feel free to break cookies to get a full layer of cookies. Spread cookie layer with egg mixture. Grate chocolate on top, and put in the fridge for as long as you can handle.