Jackie brought me more rhubarb this week, and after last week's disaster I wasn't sure I was emotionally prepared to make another pie just yet. However, in my obsession with all recipes
David Lebovitz
, and my lack of familiarity with rhubarb, I went with a tried and true favorite ingredient: red wine. Since I decided to make this
red wine rhubarb compote
, I needed to whip up some ice cream to have with it. I have generally had a prejudice against Philadelphia style ice cream. I have always loved frozen custard style ice creams so much that when I began my ice cream making less than a year ago, I never bothered making any without egg yolks. I have actually altered Philadelphia style ice cream recipes to turn them into custards. Tonight, though, I wanted something fast, and not to bother with excessive cooking and cooling times. I had red wine rhubarb compote to consume! I made very small portions of both the ice cream and the compote--just enough for one dessert for two; however, the recipes are the full-sized portions. And so, I bring you one of the most simple, and delicious ice creams I can imagine, paired with a flavorful, rich, and spicy compote:
Philadelphia Style Vanilla Ice Cream:
3 cups cream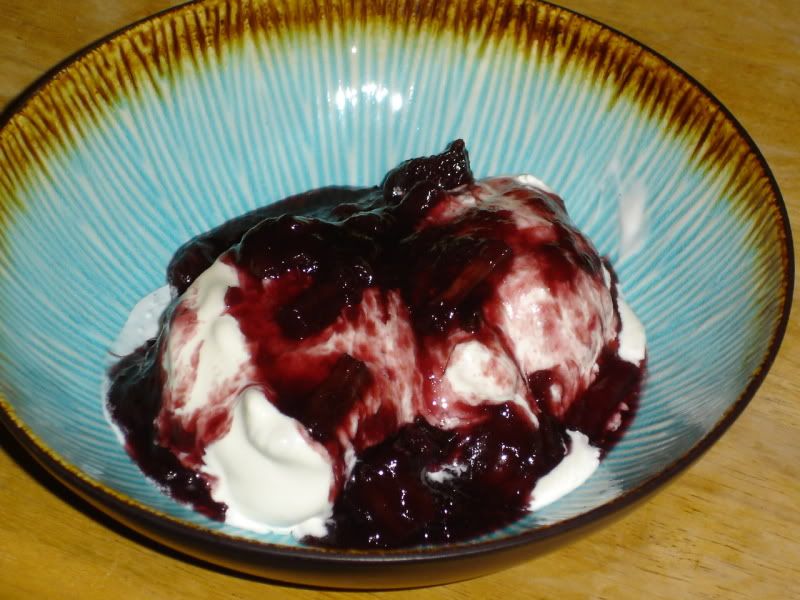 3/4 cup sugar
vanilla bean paste to taste (I used very little, to really let the cream shine)
Heat up one cup of cream on the stove and dissolve sugar. Add vanilla, and the rest of the cream. Once cooled, add to ice cream maker. (I didn't really let it cool. My ice cream maker is tough, and stood up quite well).
Red Wine Rhubarb Compote (I butchered this, and you should seek out the
original recipe
):
2 cups red wine (I used an inexpensive
Little Penguin Shiraz
that I've become fond of)
1/2 cup sugar
1 tablespoon honey
1 small cinnamon stick
several whole cloves
1 pound rhubarb, cut into small pieces
As my sister would say, throw it in a pot and cook it. After the rhubarb was poached, I removed it, and continued to reduce the wine to a thin syrup. I had a difficult time trying to find and remove the cloves, so I would probably use ground cloves in the future.
I didn't even let the ice cream firm up in the freezer. I scooped it from the maker into a bowl, topped with rhubarb, and served with two spoons. :-)