I'm still without my stand mixer, meaning that all desserts I've made recently have been those that don't require an electric mixer. Yes, I have an inexpensive hand mixer...but using it is so much work! Creme brulee is one of those desserts, however, that require shockingly little in the way of equipment. It is luxuriously smooth, completely decadent, and deceptively simple.
This recipe, while inspired by a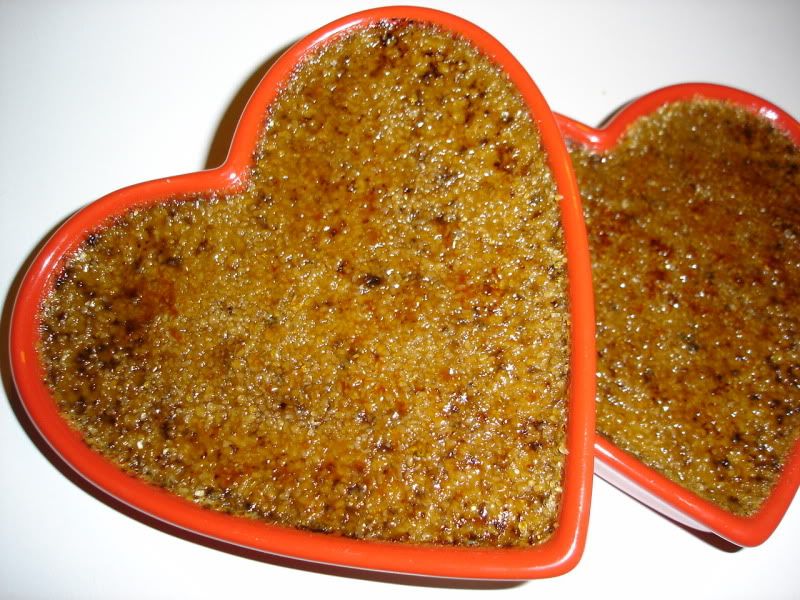 recipe in
Lou Seibert Pappas' Creme Brulee
, is an adaptation to suit my preferences in flavor and ingredients, as well as number of servings. One of the adjustments I made is to include one of my most recent culinary discoveries:
espresso powder
. I hate, hate, hate the flavor of instant coffee, and cringe every time I see instant coffee granules dissolved in hot water in an otherwise promising recipe.
King Arthur Flour
recently ran a special on their "secret ingredients" and I indulged in this powder. Simply, it's amazing. It's smooth, with none of the rough aftertaste I associate with coffee granules. It just tastes like good coffee, powdered. As a complete aside, I think King Arthur has probably the best customer service of any baking catalog/website. They made a minor error in that same order, and when I called to see how to have it fixed, several unusual events occurred: 1. A real, live, human being answered the line, on the second ring. 2. She was genuinely apologetic for the mistake, and fixed it immediately. 3. They rushed shipping on the replacement item at no cost to me--I had the item about 36 hours after making the call. 4. The entire call lasted just over a minute.
Without further ado, what Carolyn calls my Best Creme Brulee, Ever.
Serves: 3 reasonable ramekins full or 2 large heart-shaped dishes
3 egg yolks
3 tablespoons brown sugar
2 teaspoons
espresso powder
a few drops molasses (literally, less than 1/8 teaspoon)
3 tablespoons amaretto
1 cup whipping cream
2-4 tablespoons raw sugar
Pre-heat over to 275 degrees. In medium sized bowl (I like a 1 quart measuring cup, because it making pouring into ramekins easier), combine egg yolks and brown sugar, whisking until the sugar is dissolved and the the yolks are creamy and thick looking. Add the espresso powder, the molasses, and the amaretto, stirring until well combined and espresso powder is dissolved. Add cream, and stir gently to avoid whipping air into mixture. Place ramekins into a baking dish, and fill baking dish with water, coming up at least half way up the sides of the ramekins. Divide the egg yolk/cream mixture among the ramekins. Place the ramekins in the water-filled baking dish in the oven for at least 25 minutes. If you are using deeper ramekins, it may take longer to make. The custard is done with it's set, but still wiggles in the center. Remove from over and let cool.
Before serving, top with raw sugar, and caramelize the sugar with a hand-held kitchen torch.
Please let me know if you decide to try the recipe! I like way the amaretto flavor comes through the coffee so clearly--a perfect combination. Keep an eye out for upcoming posts of torrone, marshmallows, and other candies. Once my KitchenAid is back in working order, I'll be making use of the egg whites accumulating in my refrigerator!