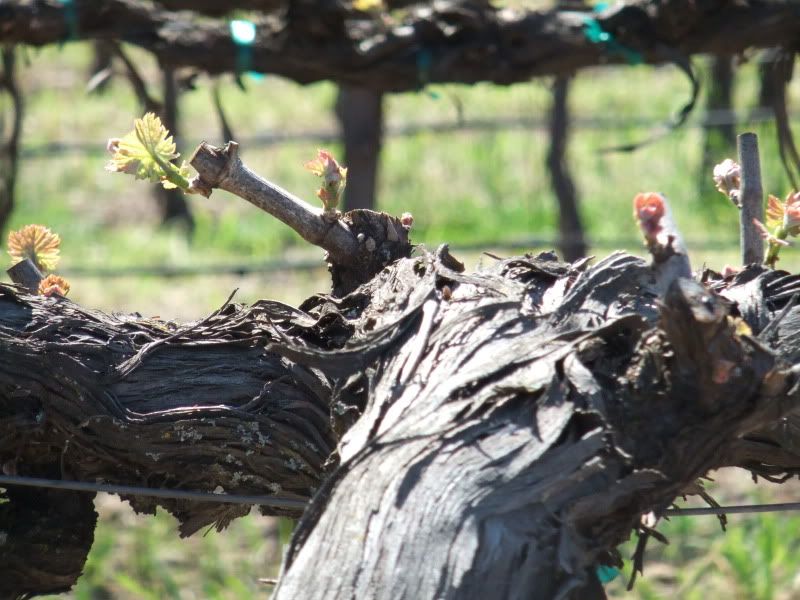 Just because I want a record for
myself, and a few other people have asked, here is a sampling of the wines we had in California. The list isn't complete, of course, but it's got some of wines we really liked! The ones I starred were definite
favorites.
---
R
iv
er Terrace Inn Bar

(http://www.riverterr
aceinn.com/)

This is actually the hotel where we stayed and had our first local wine. We also had what Carolyn decided was the Best Soup Ever, a roasted red pepper bisque. Overall, we'd definitely stay at the hotel again. It was a short walk to downtown Napa, a beautiful hotel, and the front desk was
endlessly helpful to the clueless when it came to scheduling things to do. The photo is the view from our balcony.

2007 Hangtime Pinot Noir
(Carneros - Na
pa Valley)*
---
Bounty Hunter Wine Bar (http://bountyhunterwinebar.com)
Bounty Hunter is one of those places billed as "where the locals go." And it's true. I think there were only one or two other tables of touristy people. We were actually seated at a community table with a couple obviously on their first date. the best thing I overheard: "Where do you see yourself in 3 years? Married with a bunch of kids?" The guy sputtered around for a second before ordering another class of Malbec. We had lots of meat, as this is a BBQ joint. I'd go back.

2006 Dubois "Clos Margot" Chorey-Les-Beaune (Burgundy - France)
200
6 Lutea Pinot Noir (Russian River Valley – California)
2006 Expression Willakia Pinot Noir (Willamette Valley - Oregon)*
2006 Jus Soli Roots Red (Sonoma County - California)*
---
Wine Train
(http://winetrain.com/)
Although I wouldn't say we regret doing it, the Wine Train was not something I'd do again or recommend doing. It was boring, although the food was good. What they are really missing is information; there is no option to hear about the vineyards you are passing by on the slow-moving train, and the "Wine Expert" didn't seem interested in talking to us at all when we were i
n the tasting car. We tasted six wines before and during the wine train, and I don't have information about any of them. In trying to look deeper, I am pretty sure I tasted a riesling on the train that I later tried at a winery--since she didn't offer very much information, though, I don't know for sure. I definitely remember
that we tried these:



(Edit: I responded to the comment left by Wine Train CEO Greg McManus in a personal email, but want to add for everyone's benefit that the Wine Train was not a negative experience! The food truly was delightful, and the wines we tasted were also good. Having already driven up and down State Route 29--the path the train takes--the day before, we were looking for a more educational experience, as opposed to a scenic one. If you are looking for a relaxing ride through Napa Valley, accompanied by unique and tasty food (like the orange-bourbon halibut I loved), the Wine Train would be ideal. However, for those interested in more history and fun stories about the area and the wine it produces, I would recommend a wine tour instead. Greg has responded to my email and agrees that they need to develop a method for communicating information during the train ride.)




2008 Robert Mondavi Winery Moscato D'oro (Napa Valley -California)
An elegant, intensely fruity wine with scents of spice and floral notes of orange blossom and rose petal. Rich and concentrated honeyed fruit flavors are enlivened with fresh acidity. Beautifully balanced, the wine resonates like a finely tuned cello, with a lengthy finish and sumptuous return.


2007 Margerum M5 Red Wine (Santa Barbara County - California)

This is dark, rich, and packed with berry and peppercorn. Truly delicious. Now for the more technical
data: 48% Syrah, 31% Grenache, 10% Mourvedre, 2% Counoise. Also included is 6% Genesis of M5 (a co-fermentation of everything but Syrah) and 1% UBER Syrah (a co-fermentation of all of the single vineyard Syrah).


2007 Ed's Red (California)

Enticing, satisfying and full-bodied, the 2007 A.D. Ed's Red is dark and densely colored, with aromas including plums, violets, white pepper and barbecued meat, while on the palate there are additional flavors of cherries,
blueberries, spice and licorice. The wine is 43% Syrah, 39% Zinfandel, 13% Petite Sirah, 4% Cabernet Franc, 1% Petit Verdot, and comes from two areas in California: 44% Napa Valley, 56% Russian River Valley.
---

Hagafen Wines
(http://www.hagafen.com/)

Founded in 1979. Interestingly, all
of Hagafen's wines are organic and kosher. The tasting guide gave us information on the vineyards here, as well as on the background of the winery i
tself. Their wines have been frequently served at the White House since Reagan's presidency, and continues today with Obama. My favorites at this winery were the Cabernet Franc and the Riesling. Carolyn's favorites were the Sauvignon Blanc, and the Riesling, which is interesting because she hardly ever likes white wine.

2008 Napa Valley Sauvignon Blanc*
On the nose, our highly aromatic Sauvignon Blanc shows lemon, grape fruit, and kiwi. This crisp,
bracing, mouth-watering wine fills the palate with a well integrated mix of bright fruit, including lemon drops, limes, grapefruit, and citrus zest, with just a hint of tingly liveliness. Balanced and with solid structure, our 2008 Sauvignon Blanc works well with a variety of fish and lighter, roasted game dishes.

2008

Hagafen Estate Bottled

Pinot Noir
This intense, extracted Pinot Noir shows ripe strawberry and cranberry, followed by roasted coffee, smoky black licorice and fresh, loamy earth. This full-bodied wine has a soft and silky structure coupled with spicy and complex strawberry jam, black cherry, and boysenberry that finishes with notes of roasted coffee and toasty cocoa.

2006

Hagafen Estate Bottled

Merlot
Highly aromatic, showing dusty rose petal, cherry licorice, cinnamon, and cloves. Deep ruby-garnet in color, and a classic Californian "Right Bank" wine, this mouth-watering and long-finishing Merlot presents notes of black cherry, black licorice, roasted cocoa, and pumpkin pie spices, accented by silky tannins.

2006 Hagafen Napa Valley Zinfandel
This wine gives a rich combination of blackberry, boysenberry, and sweet oak on the nose. On the palate is a superb blend of cherry and black cherry, accented by anise, clove, and roasted cocoa. Firm, silky tannins work in concert with the long finish, giving a lower alcohol Zinfandel designed to be food friendly, especially served with barbequed or roasted meats or tomato-based sauces.


2006

Hagafen Estate Bottled

Cabernet Sauvignon
The rich, spicy nose of bakers' chocolate and black cherry compliments the brooding and spice-filled black licorice, black cherry, plum and cranberry on the palate. The addition of 11% Cabernet Franc enhances the complexity of the wine, as well as adding to our trademark robust and silky mid-palate.

2007

Hagafen Estate Bottled

Cabernet Franc*

The rich, spicy nose of red and back fruits compliments the brooding and spice-filled black cherry and tobacco on the palate. The addition of 4% Merlot enhances the complexity of the wine, as well as adding to our trademark robust and silky mid-palate.

2007

Hagafen Estate Bottled

Syrah
On the nose, our Syrah shows aromas of red and black fruits. This inky, dark red wine fills the mouth with firm, meaty tannins, complementing a rich mix of cherry, black cherry, chocolate, and leather. With an extremely long finish, this well-structured Syrah begs for the accompaniment of food--
anything roasted and in need of a wine able to accent and deepen the experience of hearty meat dishes.

2009 Hagafen Estate Bottled White Reisling*

On the nose, our White Riesling shows aromas of tropical stone fruits, mandarin, and white peach. This bright, wine bursts in the mouth with a mingling of stony, sweet fruits, including apricot, papaya, mangosteen, and mango. With an extremely long finish, this well-structured White Riesling begs for the accompaniment of food--anything needing a slight hint of sweetness to offset spicy or succulent foods, including Thai, Indian, and Chinese cuisines.

---
Arger-Martucci Vineyards (http://www.arger-martucci.com/arger-martucci/index.jsp)

Founded in 1998. My favorite of all the vineyards we visited, because our wine expert, Fred, made me laugh and was high informative. He was very generous, and genuinely excited by the wines. Most
importantly, he wasn't put off by our novice questions, and managed to entertain as he educated. Of course, the poolside picnic, gorgeous mountain views and 75 degree weather helped. This tasting was more structured, where we sat together, and he lead us through the wines one by one. My favorites were the Cabernet Sauvignon and the Odyssey Prop Blend. The Odyssey, served to us with dark chocolate, was among the best wine I tasted the whole trip (though pricier than I usually spend on a single bottle of wine). Carolyn's favorites were the Iliad, the same Cabernet Sauvignon, and the Odyssey blend I enjoyed. We actually purchased four bottles here: the Iliad, the Viognier, Cabernet Sauv, and Pinot Noir.


2008 Arger-Martucci Vineyards Iliad*
A complement to our proprietary red wine called Odyssey, this proprietary wine boasts elegance and refreshment!

2007 Arger-Martucci Vineyards Viognier* This aromatic Viognier has flavors of melon and peach with a touch of bananas that follow through on the palate. We believe this is our best Viognier ever from Arger-Martucci - a great wine to start a meal or simply sip on the veranda.

2005 Arger-Martucci Vineyards Syrah

Gold Medal Winner at the 2008 Orange County Fair! Incredibly rich in texture and taste, our 2005
Syrah gives off the classic white pepper bouquet with hints of black cherry and leather that linger on the palate.

2004 Arger-
Martucci Vineyards Cabernet Sauvignon*
With hints of leather, tobacco and cinnamon, this Silver Medal Winner is drinking beautifully now, but has a solid structure which will allow for extensive cellaring.

2004 Arger-Martucci Vineyards Odyssey*
Described by Dr. Arger as chocolate velvet, complex layers of chocolate, cinnamon, nutmeg, and black cherry clearly demonstrate why our Estate Reserve is truly an Odyssey on the palate.

2006 Arger-Martucci Vineyards Dulcinea
The complexity of flavors on this popular dessert wine is quite remarkable with peaches, a touch of
tropical fruit, and a hint of nutmeg. Only six barrels were produced.

2004 Arger-Martucci Vineyards Pinot Noir*
This elegant Pinot Noir has bright black cherry fruit with hints of black truffle and nutmeg in the bouquet, while on the palate the taste carries red plum and cherries.
---
Casa Nuestra Winery (http://www.casanuestra.com/)
Founded in 1979. I sort of loved this winery, even though I didn't love any of the wines. It has a fantastic hippie vibe to it, with two gorgeous dogs roaming in and out of the tasting room, and walls covered in 60s era counter-culture posters. There's even a sort of shrine to Martin Luther King, Jr, with some Elvis thrown in. This is very much a family winery, and they produce fewer than 400 cases of many of the wines. The pours here were much less gene
rous than the other wineries we visited, which was perfectly fine at this point in the day. Carolyn and I shared the tasting here. The Charbono was by far my favorite, as it reminded me of my grandpa's wine, medium-light bodied, but with a kick.


2007 Charbono Napa Valley Old Vines (Calistoga -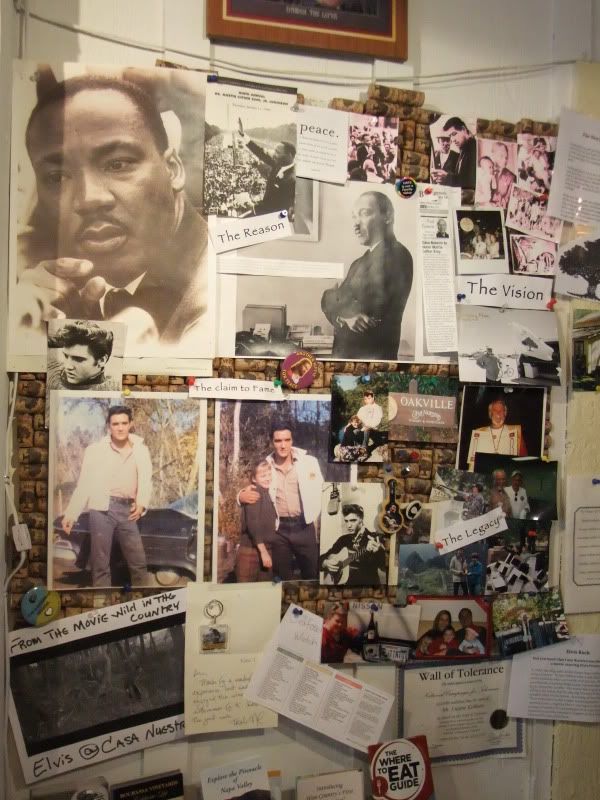 California)*

A traditional Italian variety – once widely planted in Napa Valley – Charbono has become rare. This vineyard is very old, very small, head pruned and located just a few miles north of our winery in Calistoga. The wine is medium –bodied and offers layers of red fruit with allspice and a soft finish.


2006 Cabernet Franc Napa Valley (St. Helena Estate - California)

This vintage is 100% Cabernet Franc and offers a full-bodied structure with bright fruit, hints of spice and mint followed by a pleasing finish. It will pair well with a variety of meats and sauces. This wine can be cellared for four to 12 years.


2007 Tinto (St. Helena Estate - California)

This wine is made from our field mix vineyard planted in 1992. In that year we planted nine varietals on 2.3-acres, in the likeness of our Oakville stand, adding a bit more Rofosco, Petite Sirah, Carignane and Zinfandel. This vintage offers lush, ripe dark blackberries and hints of nutmeg on the palate and a wonderful nose of plum and cocoa. It has great structure as well as serious cellar potential.


2006 Meritage Napa Valley (St. Helena Estate - California)

Our Meritage blend is similar to the wines of St. Emillion, in France's Bordeaux region. All the grapes we used were grown organically on our estate, vintified individually and aged in French oak barrels. The final blend is: Merlot (69%), Cabernet Franc (9%), and Cabernet Sauvignon (22%), resulting in a full-bodied, well structured wine with flavors of blackberries and cassis. This wine can be cellared for four to 12 years.


2009 Dry Chenin Blanc Old Vines (St. Helena Estate - California)

Made from vineyards planted in the early 1960's, this our 30th vintage offers a fabulous balance of fruit and acidity. Grapefruit and fresh melon flavors give way to a refreshingly clean and crisp finish. Pair this Chenin Blanc with a variety of foods such as creamy seafood dishes over pasta, green salads and even grilled meats. The cellar potential for this white wine is more than 20 years!


2009 off dry Riesling Old Vines
(St. Helena Estate - California)

We have only seven rows and the fence line of Riesling grapes planted on our estate in 1966. With less than 1% residual sugar (RS), it is a beautifully balanced wine with bright, exotic fruits and a racy acidity making the finish crisp & clean. Enjoy slightly chilled on sultry afternoons or all year long with spicy Asian dishes or smoked cheese and apples. Just like the mural (from our winery) that graces the label, we think this wine is out of this world!


2008 Symphony (Lodi Valley - California)

Truly a California native, Symphony is a grape variety which was created and recorded at UC Davis in 1948. It is a cross of Grenache Gris and Muscat of Alexandria. This wine is bursting with an exotic floral bouquet, offers a clean mouth-feel and a lush, fruity finish.
---
Robert Biale Vineyards
(http://www.robertbialevineyards.com)
Founded in the 1930s. One of the interesting parts of this tasting was where we did it: in the cellar. Although it was a gorgeous day, Biale was being painted the day we were there, so we couldn't be outside. I enjoyed the story-telling of our wine expert here, who talked us through the vineyard's shady history as a winery during prohibition. Like many vineyards in Italy, where the founder was from, his vineyard produced a single grape:
Zinfandel. With prohibition, the family would have been out of business. Like many normal, decent people of the time, the family made the decision to become criminals instead of destitute, and began selling their wine illegally,
code named "black chicken." They were compelled to use a code name because the family used a party line phone to
take orders. I might have been a little tipsy by this point in the d
ay, and can only tell you that my favorite was pretty usual for my taste that runs toward blends: the prop red. They don't list any of their wines or tasting notes on the website, so you'll
just have to take my word that the Zappa is the best. Since it's also the most expensive, I obviously have good taste! My favorite part of this tasting, though, was tasting the two Zins back to back, and noticing the differences in them.


2007 Napa Ranches Zinfandel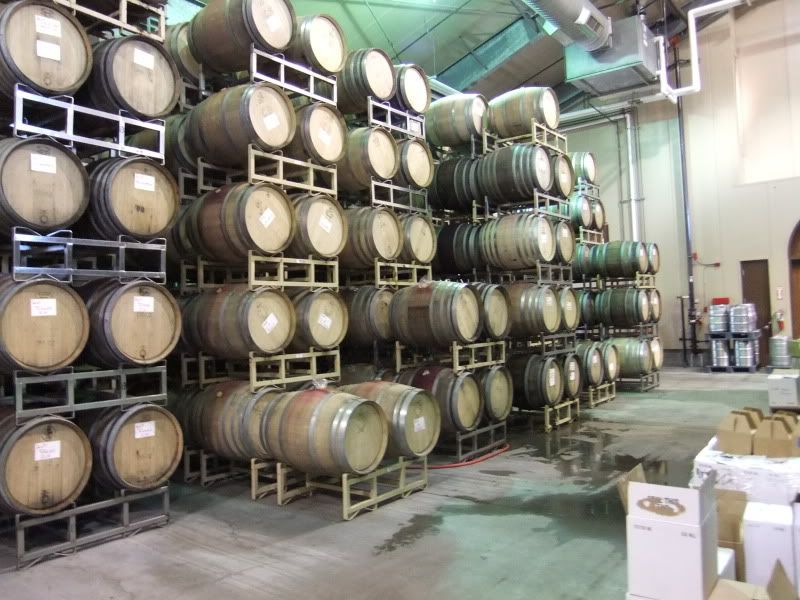 2007 Stagecoach Vineyards Zinfandel
2006 Zappa Proprietary Red Wine
2006 Royal Punishers Petite Sirah